Grammarly vs Ginger: In today's fast-paced digital world, writing has become a crucial skill for effective communication. From social media posts to business emails, the quality of writing can make a significant difference in how well the message is received. To help writers improve their writing skills, a range of writing tools are available, with Ginger and Grammarly being two of the most popular options.
Ginger and Grammarly are AI-powered writing tools that assist users in improving their writing skills by providing suggestions for grammar, spelling, and punctuation errors. The tools also offer features such as style and tone suggestions, vocabulary enhancement, and plagiarism detection. While both platforms are designed to help writers enhance their writing skills, they have some key differences that may make one more suitable for your specific needs.
In this article, we will provide a detailed comparison of Ginger and Grammarly, examining their key features, suitability, accuracy, pros and cons, and pricing plans. By the end of this article, you will have a better understanding of which writing tool best fits your needs and budget. Whether you are a student, a professional writer, or anyone else who wants to improve their writing skills, we hope this article will help you make an informed decision.
Significant Differences Between Grammarly and Ginger
When it comes to choosing a writing assistant tool, both Ginger and Grammarly are popular options. However, they differ significantly in terms of key features, functionality, and pricing. Here are the primary differences between Ginger and Grammarly:
Firstly, Grammarly boasts a user-friendly interface and offers more features than Ginger, making it a comprehensive writing assistant tool.
Secondly, Grammarly allows users to edit their text documents without interrupting their original format, while Ginger does not offer this feature.
Thirdly, when it comes to pricing, Ginger's annual plan is more affordable than Grammarly's annual plan.
Fourthly, while Grammarly has a plagiarism checker tool, Ginger does not offer this functionality.
Fifthly, Ginger has a translation tool that enables users to translate their text into different languages, which Grammarly does not have.
Lastly, Ginger offers the convenience of accepting all suggestions with a single click, while in Grammarly, you have to scroll through each suggestion individually.
By understanding these differences, you can make an informed decision on which writing assistant tool to choose based on your individual needs and preferences.
Grammarly vs Ginger – An Overview
When it comes to writing assistant tools, Grammarly and Ginger are among the most popular in the market. Both claim to be the best, but they have distinct features that set them apart from each other. In a head-to-head comparison, it's crucial to evaluate them based on their features, user experience, and accuracy.
Grammarly is an excellent grammar checker tool that goes beyond checking grammar to include features such as plagiarism detection and word enhancement. On the other hand, Ginger is a good grammar checker tool with unique features like sentence rephrasing and translation capabilities. Despite being an older tool, Ginger delivers impressive performance and accuracy, with constant updates to improve the user experience and essential feature inclusions.
However, when compared to Ginger, Grammarly has equivalent power and performance, which makes this comparison even more interesting. Although we have only skimmed the surface of both Grammarly and Ginger, it's crucial to examine them in detail. In the following sections, we will provide a comprehensive comparison of the two writing assistant tools, highlighting their strengths and weaknesses.
Read also:
Grammarly vs Ginger – Key features
As previously mentioned, Grammarly and Ginger have outstanding features that differentiate them from each other. Here are the key features of Grammarly
Key Features of Grammarly
One of the exciting features of Grammarly is its web browser extension, which simplifies the proofreading process. This feature is not limited to Chrome users, as Grammarly provides extensions for Safari, Firefox, and even Edge. This extension automatically detects grammatical and spelling errors in your text and provides real-time suggestions to help you write better.
The word enhancement tool in Grammarly is well-designed to eliminate wordiness and inconsistent prepositions in your content.
Sometimes, you may want to use a specific word in your text that might be flagged as an error by other grammar checkers, but Grammarly provides a perfect solution for this.
By modifying the personal dictionary in Grammarly, you can add any word to it, and it will not be marked as an error in the future. Moreover, it is impressive that Grammarly allows you to switch your preferred language to English.
It's true that English is not spoken the same way globally, and Grammarly has taken that into account by allowing users to adjust their language settings according to their target audience.
One of the best things about Grammarly is its unique plagiarism checker, which sets it apart from other grammar checker tools that usually don't have this feature.
Grammarly is a powerful tool that can fix punctuation, repetition, and spelling errors within seconds. The impressive performance of its AI technology is a testament to the hard work put into its development.
The best part? You can enjoy the benefits of Grammarly for free, with no hidden fees. Even though there is a premium version available with advanced features, the free version of Grammarly offers a lot.
Additionally, customer support is very responsive. If you encounter an issue, you can reach out to them, and they will respond within a few hours with a practical solution.
Key Features of Ginger
My experience with Ginger was quite different. Despite being an "older" application, it surpassed my expectations in a positive way. Ginger didn't lag or slow down, and it offered some impressive features.
The corrections made by Ginger were completed seamlessly and without any delay. I was able to quickly identify all the misspelled words and promptly correct them using Ginger's tools.
Ginger also offers browser extensions that serve as an add-on to Google Docs. This feature enables you to work on your Google Doc without any interruption, and in case of any errors within your content, Ginger quickly fixes them.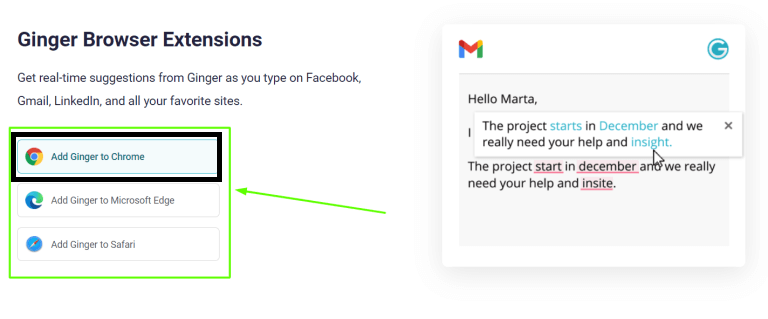 I was impressed by the advanced translator tool in Ginger that not only translates content but also corrects all the errors in it, resulting in a polished piece of work.
Ginger is easily accessible across mobile, desktop, and web, similar to Grammarly, but the Grammarly desktop app is only available for Mac on iOS. Fortunately, Ginger is available for Android users, which is great news.
Moreover, Ginger is quite affordable compared to Grammarly, especially considering its basic features.
Grammarly vs Ginger – Suitability
While both Grammarly and Ginger offer exceptional features, I believe their target audiences may vary as some unique features present in Grammarly may be absent in Ginger, such as the plagiarism checker, rephrase tool, and translator tool.
Grammarly is best suited for:
Journalists who produce formal content
Professional writers and authors who write daily
Bloggers, content writers, and publishers who require plagiarism-free content
Ginger is best suited for:
Students who need a primary tool for assignments
Those looking for a budget-friendly grammar tool
Individuals who require writing assistance for social media
Anyone who wants to translate their content in different languages
While both tools are excellent for improving your writing, their suitability may depend on your specific needs and preferences. Overall, both Grammarly and Ginger are great options to consider.
Grammarly vs Ginger – Accuracy
When it comes to accuracy, we all want instant and reliable results from AI-integrated grammar tools. In my experience, both Grammarly and Ginger are accurate, but there are some differences.
Personally, I find Grammarly's accuracy to be exceptional, especially when using it as a Google Docs add-on. The AI integrated into Grammarly continuously proofreads my work and corrects errors as I write. This feature is particularly helpful for writers who want their work to be perfect.
On the other hand, Ginger has a unique rephrase tool that can help correct uncommon or wordy sentences. However, I noticed that even though Ginger is trying to be the best, Grammarly is already showing the best results, including with its rephrasing tool.
Overall, both Grammarly and Ginger are accurate grammar tools, but in terms of accuracy, Grammarly is the winner.
How Ginger Differs from Grammarly
From my experience, I can say that while Ginger and Grammarly are different in many ways, they both have their strengths and weaknesses.
Grammarly has excelled by integrating features like in-built plagiarism checkers and word enhancement, resulting in a smooth user experience. It also offers real-time corrections and word alterations, making it easy to improve the writing on the go. Additionally, it provides advanced-genre suggestion and tone detection, which is a valuable tool for formal writing.
On the other hand, Ginger stands out in sentence rephrasing and translating, making it an excellent option for multilingual students. For instance, when I was stuck writing assignments in French, Ginger provided instant translation and proofreading, giving me the exact assignment that I wanted.
Both Grammarly and Ginger are available on multiple devices, including mobile, desktop, and web. Furthermore, both applications have keyboards for mobile use.
In summary, both Grammarly and Ginger have unique features that make them suitable for different users, and it's up to each user to determine which one meets their writing needs.
Can the Language be Changed in Grammarly and Ginger?
Grammarly only allows users to change their preferred English language. For instance, you might say "center," but others might say "centre." Grammarly detects these differences immediately. The platform offers four essential English language variations: Australian, American, Canadian, and British.
In contrast, Ginger provides more than 40 languages, making it stand out. The tool scans and delivers well-crafted content for users in the language of their choice. The best part is that every feature available when using English is also accessible when the language is changed, making Ginger an impressive multilingual tool. I was particularly impressed with Ginger's translator tool.
Grammarly vs Ginger: Pros and Cons
As with any application, both Grammarly and Ginger have their advantages and disadvantages. Here are the key differences to help you better understand each tool:
Grammarly Pros:
Built-in plagiarism checker
Advanced writing suggestions
Tone detection feature
Accurate results
Writing style enhancements
Improved readability
Grammarly Cons:
Plagiarism checker is only available in the Premium version
Requires an internet connection to function
Some suggestions may be repetitive
Ginger Pros:
Money-back guarantee
Excellent sentence rephrasing tool
Affordable and budget-friendly
Offers a web browser extension
Desktop feature available on Android
Supports translation in 40 languages
Ginger Cons:
Limited features in the free version
Customer support is unresponsive.
Comparing Pricing Plans of Grammarly and Ginger
Now that you have a good understanding of the features and benefits of both Grammarly and Ginger, let's talk about their pricing. Which one is more affordable? Here's what you need to know:
One advantage of choosing Grammarly over Ginger is that many features are available for free. The only exception is the plagiarism checker.
Grammarly Premium – Individual (Pricing)
It may surprise you, but some of Grammarly's features are only available with their paid Premium version. Grammarly Premium is available in three pricing plans:
Monthly subscription – $30 per month (paid monthly)
Quarterly subscription – $60 per three months (one-time payment)
Annual subscription – $144 per year (one-time payment)
When you purchase Grammarly Premium, you'll be charged in your local currency. Grammarly will handle the conversion process, and the exchange rate will be applied at the time of purchase. This means that you don't have to worry about the billing process.
Grammarly Business – Team (Pricing)
If you're looking for a team solution, Grammarly offers Grammarly for Business, which provides flexible options for multiple members. Here are the pricing plans:
Monthly subscription – $25 per member/month (billed monthly) Annual subscription – $12.50 per member/month, for 3 to 9 members only (billed in a single payment) Annual subscription – $12.08 per member/month, for 10 to 49 members only (billed in a single payment) Annual subscription – $11.67 per member/month, for 50 to 149 members only (billed in a single payment)
The pricing remains the same, but it changes depending on the number of members added to the team. This plan is especially useful for content marketing agencies and firms that can benefit from a single plan in Grammarly.
Ginger Premium (Pricing)
Although Ginger also offers essential features in their free version.
Unlike Grammarly, there are some features in Ginger that are restricted in their free version, which means you have to buy their premium plan to use it without any hassles.
The free version of Ginger offers essential features; however, some features in Ginger are only available in their premium plan. This means that to access these restricted features without any limitations, you must purchase the premium plan.
Ginger offers various pricing plans that are classified into subscription modules as follows:
Monthly subscription: $19.99 (discounted to $13.99)
Annual subscription: $12.48 per month (discounted to $7.49), billed as one payment of $89.88
Two-year subscription: $9.99 per month (discounted to $6.99), billed as one payment of $167.76.
Other Options Besides Grammarly and Ginger:
It's understandable if you don't prefer either Grammarly or Ginger, as every user may have different expectations and requirements in a writing tool. However, I have some alternative recommendations that can help you improve your grammar and punctuation with their unique features and capabilities.
ProWritingAid
If you're seeking an affordable alternative to Ginger, ProWritingAid is a good option. It operates in a similar manner to Ginger and is also budget-friendly. It's particularly suitable for students who want a grammar checker tool on a tight budget.
Conclusion – Which Platform is better?
It's possible that either my English has improved or using Grammarly and Ginger has helped me write better. However, I have reached a verdict.
After using both Grammarly and Ginger for several articles, including professional content writing, I can confidently say that Grammarly is the best grammar checking tool available.
Let me explain. Grammarly offers a great plagiarism checker, excellent tone detection, and accurate corrections. I am completely satisfied with Grammarly and rely on it for all my professional articles. In particular, I found the plagiarism checker in Grammarly Premium to be especially useful when dealing with online content that requires thorough checking for duplicated content.
While I did find some of Ginger's features helpful, such as the translator tool, most of the features that I needed were already available for free in Grammarly. Even tone detection in Grammarly is free.
Although Ginger does offer a more affordable pricing option, the benefits that I received from Grammarly were significantly greater than what I got from Ginger.
Therefore, I highly recommend Grammarly as a grammar tool. Even if you cannot afford Grammarly Premium, the free version of Grammarly provides precise job accuracy.
Get Grammarly today and forget about all of your writing mistakes! (pun intended)