Renderforest VS InVideo: Renderforest and InVideo are two cloud-based visual content creation platforms that are among the best on the internet. They provide a variety of features and tools to create professional-looking videos. However, it can be challenging to determine which one is superior, which is why I am presenting this comparison of Renderforest vs. InVideo.
In this comparison, we will examine both design platforms in terms of their features, pricing, and customer support, with the goal of helping you choose the right one for your needs. So, let's take a closer look at each one individually!
Importance of Visual Content Marketing
The significance of Visual Content Marketing cannot be overstated. Utilizing video marketing is one of the most effective ways to promote your business or product. According to statistics, videos can increase conversion rates by up to 80%. Visual content marketing can help you to achieve the following objectives:
Explain your product or service
Increase brand awareness and reach a wider audience
Build trust and credibility with potential customers
Creating videos used to be time-consuming and expensive. However, with the advent of many user-friendly video creation platforms, it is now easy and affordable to create professional-looking videos. Today, we will introduce you to two of the best video creation platforms, Renderforest vs InVideo. So, let's get started without further delay!
What is RenderForest?
RenderForest is a cloud-based visual creation platform that provides users with everything they need to create professional-looking videos and graphics within minutes. You don't need any prior design experience or video editing knowledge because Renderforest takes care of everything for you.
The platform has been used by over 15 million users to create more than 50 million projects, including explainer videos, intros, logos, and slideshows, demonstrating the quality and user-friendliness of the platform.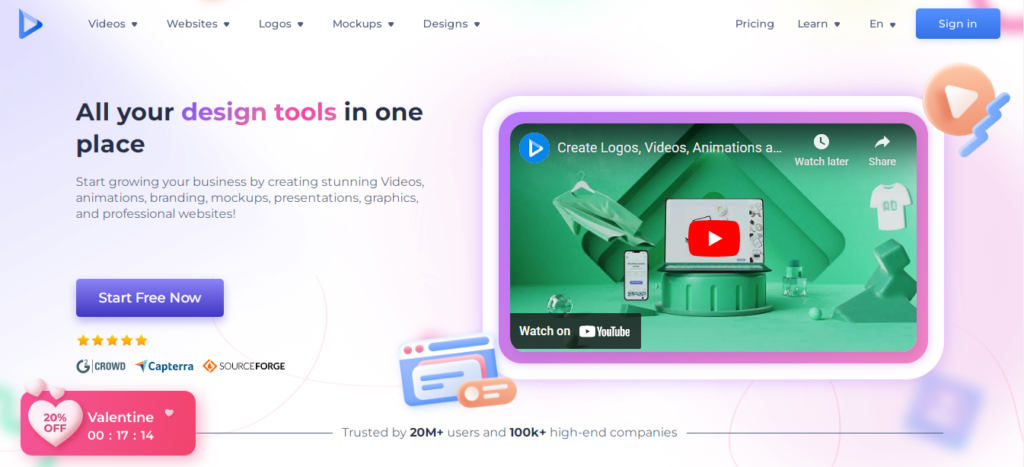 Renderforest offers a wide selection of video templates for various occasions, including business promotions, product demos, event announcements, and more. Users can also create graphics such as logo animations, website headers, and social media posts.
Renderforest also enables users to create video ads for promoting their product or service on websites and social media platforms like YouTube and Facebook.
Read also:
RenderForest Top Features & Benefits
As someone who appreciates online tools and software that require no downloads, I have to say that Renderforest is a standout platform with some impressive features.
With Renderforest, you can create a wide variety of videos and graphics, including printables, explainer videos, product promo videos, logo animations, intros and outros, slideshows and presentations, mockups, social media posts and stories, and even design websites and related elements.
This all-in-one tool eliminates the need for other designing tools, and the video quality is excellent, with HD output and the option to download videos without Renderforest's watermark for free.
With millions of royalty-free media files available in Renderforest, you can rest easy knowing that copyright issues won't be a problem. Additionally, the free account allows up to 500 MB storage and 720p videos.
Now, let's move on and take a brief look at what InVideo has to offer.
What is InVideo?
InVideo is an online video editor and creator that allows businesses and marketers to produce professional-looking videos quickly. With a drag-and-drop interface and a wide variety of video templates, users can easily create videos without any prior video editing experience.
Here is trustpilot of InVideo
More than 7 million users have used InVideo to create videos for social media, product demos, promotions, and other purposes. InVideo offers more than 1 million assets, including royalty-free photos, videos, and audio files, making it easy to create graphics such as logo animations, website headers, and social media posts.
InVideo Top Features & Benefits
InVideo is an online video editor that allows businesses and marketers to create impressive videos with ease. Its drag-and-drop interface and large collection of video templates make it user-friendly even for those without editing experience. Over 7 million users have taken advantage of InVideo's features to create social media videos, promotions, and product demos.
InVideo has a library of over 1 million royalty-free assets, such as photos, videos, and audio files, to enhance your videos. With more than 5,000 templates, you can easily create different types of visual content like intros, video ads, slideshows, and more. InVideo has a free plan that lets you create videos up to 40 minutes long with watermarks, allowing you to explore its features and try it out.
Renderforest VS InVideo: Features Difference(2023)
While both Renderforest and InVideo offer a range of video editing features, they have their unique strengths. Let's delve into the key differences between the two platforms.
Unlike Renderforest, InVideo allows team collaboration by assigning different roles to team members for working together on a project.
While both platforms offer a variety of video editing features, Renderforest doesn't allow splitting and merging multiple videos, but InVideo makes it simple and hassle-free.
Renderforest's text-to-voice is impressive, enabling you to quickly produce videos from your blog posts and articles. You can even create Fiverr gigs and start freelancing with Renderforest.
InVideo's AI feature allows you to create videos effortlessly. If you're short on time, simply use this feature, and InVideo will take care of the rest.
Regarding the video editor, both InVideo and Renderforest offer an extensive range of editing tools.
Pricing Comparison of RenderForest & InVideo (2023)
The design and video editing tools offer free-forever plans. However, Renderforest is more affordable than InVideo when upgrading to premium.
For instance, InVideo's monthly charge for the first month is $15, whereas Renderforest costs $9.99 per month if you opt for the yearly plan.
Renderforest Pricing Plans
To access more features and resources, Renderforest offers different plans according to your needs. Here are the options:
Free Plan: This free plan is a great way to try out Renderforest, as long as you're happy with the limits of 500 MB storage, 360p videos, and limited stock footage and images.
Lite Plan: For $9.99 per month, you can access Renderforest's entire library without any restrictions or watermarks. You can even create a premium website on your domain.
Pro Plan: If you are transitioning from freelancer to agency, the Pro plan is a great option for $19.99 per month. It offers 30GB storage, HD1080p videos, and access to 5 million stock-free footage and images.
Business Plan: As your agency grows, the Business plan for $24.99 per month allows you to create unlimited 4K videos with 50 GB storage per seat. You will also receive a dedicated account manager at an incredible price.
InVideo Pricing Plans
InVideo provides three subscription options, including a free plan and two premium plans that can be paid for monthly or yearly, depending on your budget and requirements.
Free Plan: With a 40-minute video duration and a watermark, the free plan provides access to a 3M+ standard media library and 5,000 templates. However, for free plans, Renderforest appears to be the better choice.
Business Plan: For $15 per month, this plan offers all features, including 60 HD1080p video exports, 20 background removals, 10 iStock media, and more. However, Renderforest provides greater flexibility to create unlimited videos.
Unlimited Plan: If you're an agency, the Unlimited Plan may be worth the $30 monthly cost. It provides unlimited video exports, 120 iStock media files, and 40 background removals.
Renderforest VS InVideo: My Recommendation
InVideo and Renderforest are excellent video editing and designing tools, both of which provide a free plan for trying out the platform and its features. However, Renderforest is a superior option when it comes to pricing, storage, and features.
Therefore, I highly recommend using Renderforest. Sign up for the platform today and start crafting fantastic videos for your social media, website, and YouTube channel.